ACCURATE TIMESHEETS
Benefits Of Online Time Reporting Software
Detailed & Actionable Reports
Get detailed insights on time, productivity, and activities of employees
Easily Generate Invoices
Calculate billable hours and generate invoices for clients
Calculate Costs & Profitability
Track project costs & profit with
Meant For Every Business
Workstatus: One Solution for All Businesses

Enterprises
Optimize workforce management and resource allocation
AI-powered insights for strategic decision-making
Choose Stealth or Visible Mode for tracking employee activity

Start-ups
Cost-effective, comprehensive workforce management
Real-time insights for rapid growth and success
Ideal for managing remote teams

Freelancers
Precise time tracking and invoicing
Efficient task prioritization and deadline management
Foster trust and credibility with clients
Empowering Leaders
How Can Workstatus Help Managers Optimize Operations
Workstatus offers robust features to help managers plan, optimize & track their operations and make data-driven decisions for higher ROI.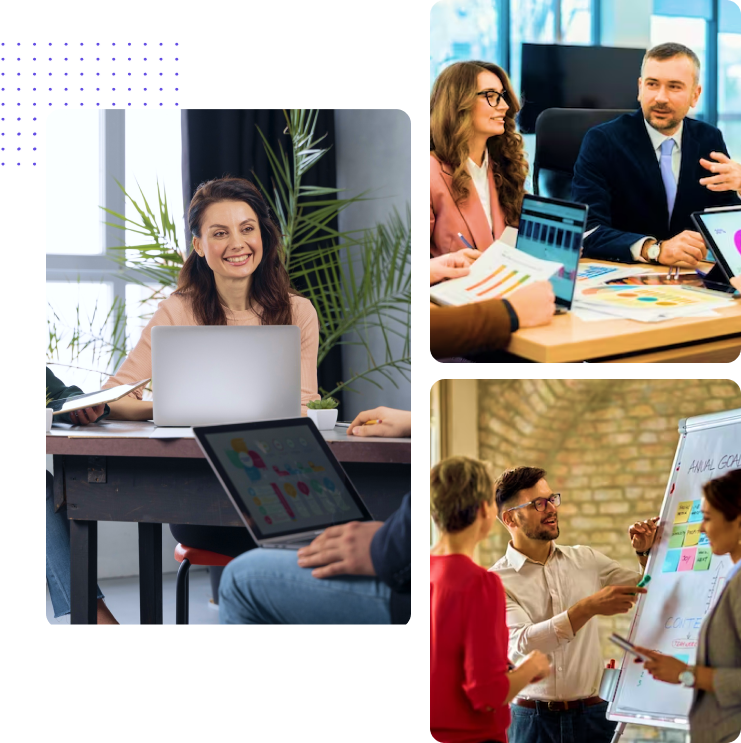 HR Managers
Real-time insights on attendance and work hours
Geofencing, GPS tracking, and selfie validation
Efficient time tracking and reporting for easy payroll
Finance Managers
Detailed time tracking and project cost analysis
Accurate budget allocation and expense monitoring
Data-driven reports for better financial planning
IT Managers
Identify potential data theft threats by capturing screenshots.
Monitor application usage to detect unauthorized software installations and potential security breaches.
Analyze metrics for smarter IT operations.
Project Managers
Centralized platform for monitoring project progress
Real-time data and analytics for risk identification
Stay on schedule and within budget with Workstatus!"
STAY INFORMED
User-Friendly Time Management Solution
Online Time Reports
Get robust real-time reports related to your workforce for
.
Real-Time Tracking
Stay up-to-date with what your employees are doing every minute of the day with real-time tracking.
Instant Updates
Employers are instantly notified when their employees do not show up at work or are on time-off.
Time-Offs
View online time-off reports to track time-off balance and customise time-off policies at the workplace.
Detailed Insights
Analyse past reports on employee productivity and performance to better workforce planning.
LET'S BEGIN
Start Your Workstatus™ Journey Right Away
Get Workstatus™
Download the Workstatus app on desktops/laptops (Windows, Mac, Linux) and/or mobile phones (Android/iOS) as per your requirements to start real-time employee monitoring.
Start Time Tracker
Just click and start the timer as you start your work and leave the rest to the fully automated timesheet tracker, which silently tracks your time and tasks. You only need to start-stop the timer as you progress your day.
Generate Time Reports
View reports on Workstatus dashboard to check employee attendance, work hours, and a lot more. Managers and supervisors can use this information to optimise workforce planning.
Workstatus Features
Powerful Features To Make Workforce Management Easy
Transforming Workforce Productivity and Project Excellence
OWN YOUR DATA
Get & Use Employee Data As You Need
Login Based Data Access
Login as an employee or manager and start populating reports in your respective dashboards.
APIs Access
Access APIs and integrate Workstatus data with any other tool/software your team is using for a unified user interface.
Raw Data Access
Leverage raw data to generate customised reports related to your team's scheduled shifts, availability, time-offs and a lot more.
USE CASES
How Can Workstatus™ Help Your Business
Improved Productivity
With Workstatus, you can keep a track of every move of your team members. When people know they are being monitored, they will spend less time slacking off and more time on activities that actually deliver results. This boosts the overall productivity of the organization.
Better Employee-Employer Relation
Workstatus' time reporting app makes all the information available to everyone in your business, as a result of which there are no areas where conflict is likely to arise between the manager and their teams. With Workstatus, payroll-related hassles are a thing of the past.
Effortless Performance Evaluation
Managers can use time reports to check if their employees use their work hours productively, adhere to their shift timings and deliver work before a pre-defined deadline. This way, they can assess how well an individual has performed during a certain month/quarter/year.
Anytime-Anywhere
Workstatus for All Devices
Our lightweight app allows you and your team to track time, no matter where you are. With GPS tracking and geofences, anyone can clock in automatically when they enter a job site or get reminders based on location.
Workstatus account required to use apps
Testimonials
What Workstatus™ Users Tell Us
" Workstatus employee time tracking tool tells us the moments our people are being
productive and uses that data to help us create productive schedules, deadlines, and tasks. With a simple to use tool, we are able to make our employees more
productive while saving time we used to spend earlier. "
" We have further noticed that as a by product, our employees are also motivated to work harder and smarter by taking control of their time by having this app on their devices. "
" Glad that we moved to Workstatus and cut down on wasted time. We are now clutter- free, more managed and relaxed. Our people have reported a better work-life balance since we made the move. "
" I was exhausted after working full days. I used to spend my entire day running around like crazy trying to finish everything. But things have changed since I made a shift to Workstatus time tracker. Coming home after work with time to spend with family is great. And picture not dreading the next day at work because I am less stressed and don't feel like there's too much on my plate. "
GET ANSWERS FOR
Frequently Asked Questions
What is the function of time-reporting software?
A time report software allows you to track the amount of time you spend on various tasks throughout the day. This can be helpful for generating invoices or for providing an estimate of how much time a project will take.
There are a number of different time report software options available and most offer a free trial so that you can try them out before deciding which one is best for you. One such popular option is Workstatus.
Give Workstatus a try today and see how easy it is to manage your workforce!
What are the distinguishing features that make Workstatus™ the premier detailed timesheet reporting app?
Workstatus is the best-detailed timesheet reporting app because it offers several features that help businesses track employee time and attendance. For example, Workstatus allows users to create custom reports based on the data they need, filter data to see specific information, and export data into a variety of formats for further analysis. In addition, the app can be used on both Android and iOS devices, making it accessible from anywhere.
Workstatus also offers a variety of other features that make it an ideal choice for businesses looking for an effective way to track employee time and attendance. For example, the app includes GPS tracking capabilities so businesses can see where employees are working, as well as notifications for when employees arrive or leave work. This helps businesses ensure they have complete visibility over their employees' working activities.
Is it simple to generate consolidated reports using Workstatus™?
Workstatus makes it easy to create consolidated reports. With a few clicks, you can have a report of all the hours worked by your team over the last week, month, or quarter. You can also track time spent on specific projects and see how much progress has been made.
Workstatus also makes it easy to bill clients for the time you've worked. Simply enter the hours worked and rate per hour and Workstatus will generate an invoice for you. You can even set up recurring invoices so that you always have the latest information ready to send to your clients.
Can we modify previously approved timesheets to reflect changes in reports?
Yes, changes can be made to reflect changes in reports, but it's important to document the changes in case there are questions later.
What is the process for deleting or editing a time report?
To delete a time report, select the report and click delete. To edit a time report, select the report and make the changes you want. Changes will be saved automatically.
What are the advantages of utilizing timesheet reporting?
Timesheet reporting can provide a number of benefits for businesses, including:
1. Tracking employee time and attendance– By tracking employee time and attendance, businesses can ensure that their employees are accurately recording the time they worked. This can help to prevent inaccurate invoicing and missed billable hours.
2. Determining employee productivity– By tracking the amount of time employees spend on various tasks, businesses can determine which tasks are taking the most time and identify areas where employees could be more productive.
3. Billing clients correctly– By tracking the amount of time spent on each task, businesses can invoice their clients correctly for the services they provide. This can help to avoid misunderstandings down the line.
How much time does a comprehensive reporting tool such as Workstatus™ take to produce detailed reports?
Time reporting software such as Workstatus can generate detailed reports in real-time, so you can get an immediate overview of how your team is performing.
Can Workstatus™ integrate with other software tools?
Yes, Workstatus™ is designed to integrate seamlessly with a variety of other popular software tools, including project management software, payroll systems, and accounting platforms.
Does Workstatus™ offer mobile access to timesheet reporting features?
Yes, Workstatus™ provides a fully mobile-optimized experience that allows users to track their time and generate detailed reports on the go, from anywhere with an internet connection.
Can Workstatus™ help improve accuracy and accountability in time tracking?
Absolutely. Workstatus™ provides a range of features that make it easy to track time accurately and reliably, including real-time tracking, automated reminders, and detailed reporting capabilities. By making it easier to track time, Workstatus™ helps to improve accountability and ensure that everyone on a team is staying on task and meeting their deadlines.
Don't Wait
Start Your Workstatus Journey Today!
Get detailed and clean activity reports of your team