Automation That Leads To Smart Management
Benefits Of Online Attendance Management Software
Clock-In and Clock-Out easily
Allow employees to mark their attendance with an easy single-click, clock-in, and clock-out facility.
Stay Updated In Real Time
Get real-time notifications on clock-ins & clock-outs, absenteeisms, or latecomers with the help of a digital attendance system.
Easy Payroll Management
Streamline the payroll processes with accurate attendance data. Automatically generate salary slips. View detailed reports on attendance to make smart decisions.
Meant For Every Business
Workstatus: One Solution for All Businesses

Enterprises
Optimize workforce management and resource allocation
AI-powered insights for strategic decision-making
Choose Stealth or Visible Mode for tracking employee activity

Start-ups
Cost-effective, comprehensive workforce management
Real-time insights for rapid growth and success
Ideal for managing remote teams

Freelancers
Precise time tracking and invoicing
Efficient task prioritization and deadline management
Foster trust and credibility with clients
Empowering Leaders
How Can Workstatus Help Managers Optimize Operations
Workstatus offers robust features to help managers plan, optimize & track their operations and make data-driven decisions for higher ROI.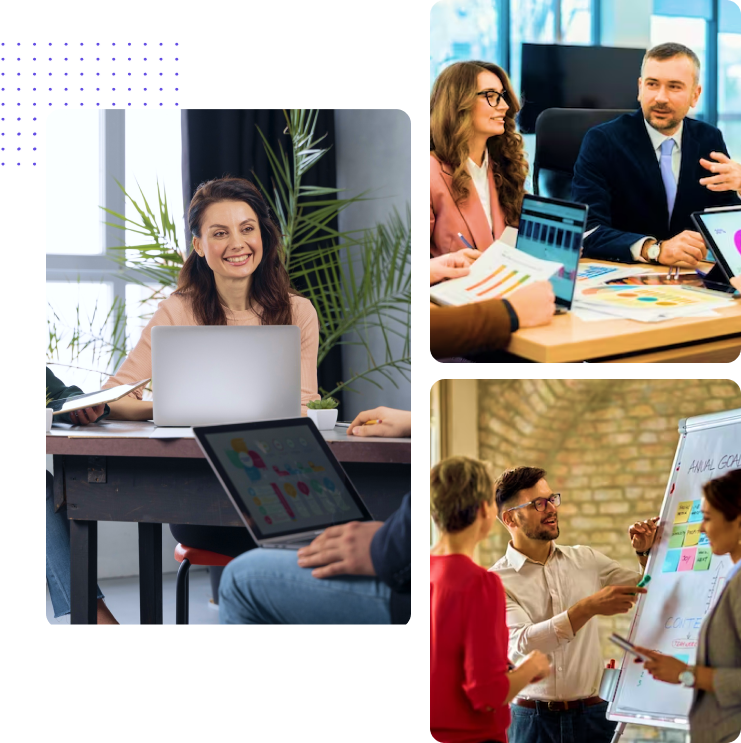 HR Managers
Real-time insights on attendance and work hours
Geofencing, GPS tracking, and selfie validation
Efficient time tracking and reporting for easy payroll
Finance Managers
Detailed time tracking and project cost analysis
Accurate budget allocation and expense monitoring
Data-driven reports for better financial planning
IT Managers
Identify potential data theft threats by capturing screenshots.
Monitor application usage to detect unauthorized software installations and potential security breaches.
Analyze metrics for smarter IT operations.
Project Managers
Centralized platform for monitoring project progress
Real-time data and analytics for risk identification
Stay on schedule and within budget with Workstatus!"
Higher Transparency, Better Accountability
Employee Attendance Tracking With 100% Transparency
Approval Of Timesheets
Team leaders and managers can quickly review and approve online timesheets for effective time management.
Idle-Time Notification
Get an email notification when employees are idle for more than a certain amount of time, allowing you to address any issues before they become major
Mobile & Desktop Accessibility
Employees can conveniently log their time and other data via mobile or desktop devices.
Detailed Reports
Easily generate detailed reports to track and analyze the performance of individual employees or teams, giving you a better understanding of their work.
Get Started with Workstatus
Begin Your Attendance Management Journey Right Away
Download & Install Workstatus
All employees can download Workstatus app on their desktops/laptops (Windows, Mac, Linux) and/or mobile phones (Android/iOS) as per their requirements to start the real-time time tracking.
Clock-In and Clock-Out
Take a selfie while clocking in and out. Start your work and leave rest to the fully automated attendance tracker which silently tracks your attendance in the background.
Track and Generate Attendance Reports
Every employee can self-monitor their timesheets and productivity charts generated in real time. Managers can generate online attendance reports to analyze employees' attendance patterns and can use this information to optimize their workflow.
Workstatus Features
Powerful Features To Make Workforce Management Easy
Transforming Workforce Productivity and Project Excellence
Ease of Data
Get & Use Employees Attendance Data As You Need
Login Based Data Access
Login as an employee or Manager and start populating reports in your respective dashboards based on relevant time tracking done.
APIs Access
Get access to APIs and integrate Workstatus data with any other tool/software your team is using for a single user interface.
Raw Data Access
Use raw data to generate custom reports on minutest details on second-by-second tracking of your team's time.
Use Cases
Why Should You Use Workstatus™?
Improve Attendance of WFH Teams
Workstatus is an online attendance management system that helps managers keep an automated track of work-from-home teams from a centralized location without needing any direct intervention on a day-to-day basis. Workstatus significantly reduces the amount of time managers spend tracking employee hours. This, in turn, allows managers to focus on more important tasks.
Manage Attendance of Remote Teams from Anywhere
Workstatus' geofencing feature makes it easy to verify remote employees' attendance by ensuring that your remote staff is clocking in and out from their designated work locations. Its automated notifications system ensures that employees are kept up-to-date on their attendance status and any changes to their schedule.
Hassle-Free Workflow
Workstatus is a cloud-based attendance management software that can help organizations reduce the cost of managing employee absents. It helps managers track employee absents, late comings, and sick days. It eliminates the need for manual sheets and ensures that employees are held accountable for their attendance. Workstatus also offers GPS and Geofence tracking for field staff, which can help organizations reduce the cost of traveling to meetings or appointments. Thus, giving you complete hassle-free workflow management.
Anytime-Anywhere
Workstatus for All Devices
Our lightweight app allows you and your team to track time, no matter where you are. With GPS tracking and geofences, anyone can clock in automatically when they enter a job site or get reminders based on location.
Workstatus account required to use apps
User Guide
Have Queries? We Have Answers
1. Why should a business opt for online employee attendance software?
There are numerous reasons any business should go for online employee attendance software. The most obvious reason is that it's more efficient and eliminates the need for time-consuming paperwork. With online employee attendance, managers have easier access to real-time data and can identify trends and patterns that would otherwise be hidden in manual attendance records.
Online employee attendance also helps businesses reduce costs by automating payroll processing. And finally, online employee attendance helps companies protect their employees' privacy by allowing them to clock in and out from any location with Internet access.
2. How do I choose the best time and attendance tracking software for my company?
It depends on what your company needs. Here are some factors to consider:
How many employees do you have?

Do you need a system to track employee time off and sick days?

Do you need a system that can generate reports on employee attendance?

What features are important to you? For example, does the software allow for online or mobile access? Is it customizable?

What is your budget?
After knowing these factors, you should narrow down your choices and find the best attendance management software for your company.
Workstatus is also an excellent online employee time and attendance tracking software for office. It offers many features, such as
Tracking employee time off

Leaves and Absences,

Shift patterns, and more
Workstatus the best attendance management software also has a user-friendly interface that makes it easy to use for both employees and managers.
3. How much does reliable attendance management software cost my business?
Any reliable employee attendance software typically costs around $10-15 per month per user. However, pricing can vary depending on the software's features and functionality.
Additionally, many time and attendance tracking software like Workstatus offers free trials or demo versions of their products so that businesses can test out the software before making a purchase. This is an excellent option for companies that are unsure whether attendance management software is right for them or not.
Here is Workstatus pricing for you-
Free Forever Package: $0 forever
Starter Package: $4.99 /user/month
Scale Package: $9.99 /user/month
Enterprise Package: $18 /user/month
4. Is your attendance monitoring system useful for my business?
Yes, attendance monitoring systems can be quite useful for businesses. For example, our Workstatus can help you keep track of who's in the office and who's not, which can be helpful for both tracking employee productivity and ensuring that your workplace is adequately staffed.
Workstatus is an AI-powered cloud-based employee attendance software that enables businesses to track employees' working hours, absences, and lateness. The system has a number of features, including-
GPS tracking of employees
Time-stamped punches
Interactive dashboard
Clock-in and Clock-out with Selfie
The software is helpful for businesses because it enables them to monitor employees' working hours and absences, which can help them to make sure that employees are staying on track and meeting their deadlines. The also enables businesses to identify patterns in employee absences, which can help them to address any potential issues.
5. How can an online attendance management system benefit the employees?
Staff attendance management systems can benefit employees in several ways. First, it can help them keep track of their hours and attendance. This is especially helpful for hourly employees who need to track their time worked to be paid correctly.
It can also help team leaders keep track of employee attendance and hours worked. This can help with scheduling and ensuring that the right employees are working the appropriate shifts.
Additionally, online employee attendance software generates reports on employee attendance, which can help evaluate employee productivity and track trends. It allows employees with low productivity to get the necessary training and become more efficient at work.
Finally, employee attendance software can often provide employees with detailed records of their attendance history, which may be helpful when applying for future jobs or promotions.
6. What all data points and insights does Workstatus provide from employees' attendance?
Workstatus the attendance tracking software provides data points and insights from employees' attendance by tracking when they clock in and out, their breaks, and lunch breaks. This allows employers to track employee attendance accurately, see how long employees are working each day, how long they're taking breaks, and how long they're taking for lunch. Additionally, employers can see which employees are coming in late or leaving early and which employees are clocking in but not working.
The platform considers factors such as typical hours worked per day, days of the week worked, and average hours worked per week to generate insights.
Workstatus the employee attendance tracking software can help businesses track employee absences and understand why they are occurring. For example, if any team member has been absent multiple times in a row, Workstatus can show you what days of the week they were absent and how many hours they missed. This information can help managers identify potential issues early on and address them before they become more significant problems.
7. Can I try Workstatus before I roll it out for business?
Yes, definitely. Workstatus is a great employee attendance monitoring system for businesses of all sizes, and there's no harm in giving it a try before introducing it to your team. You can sign up for a free trial on our website and see how it works for you.
Workstatus is an online tool that helps businesses manage their projects, tasks, and deadlines. It's great to keep everyone on track and ensure that projects are completed on time. The interface is quite simple, and the reports help track progress.
If you have any questions or need help getting started, please don't hesitate to contact us. We're glad to answer any queries you may have.
Testimonials
What Workstatus™ Users Tell Us
" Workstatus employee time tracking tool tells us the moments our people are being
productive and uses that data to help us create productive schedules, deadlines, and tasks. With a simple to use tool, we are able to make our employees more
productive while saving time we used to spend earlier. "
" We have further noticed that as a by product, our employees are also motivated to work harder and smarter by taking control of their time by having this app on their devices. "
" Glad that we moved to Workstatus and cut down on wasted time. We are now clutter- free, more managed and relaxed. Our people have reported a better work-life balance since we made the move. "
" I was exhausted after working full days. I used to spend my entire day running around like crazy trying to finish everything. But things have changed since I made a shift to Workstatus time tracker. Coming home after work with time to spend with family is great. And picture not dreading the next day at work because I am less stressed and don't feel like there's too much on my plate. "
Get Answers For
Frequently Asked Questions
How can an online attendance management system benefit my organization?
An online attendance management system can benefit your organization in multiple ways. It eliminates the need for manual tracking, reduces errors, improves accuracy, saves time, and ensures compliance with labor laws and regulations.
What are the essential features of attendance management software?
Some of the essential features of the attendance management software are:
Time tracking and reporting
Leave and absence management
Customizable attendance policies and rules
Automated scheduling and shift management
Real-time notifications and alerts
Integration with HR and payroll software
How does facial recognition or selfie validation attendance system help in attendance tracking?
Facial recognition or selfie validation attendance system helps in attendance tracking by verifying the identity of the employee, eliminating proxy attendance, and reducing the risk of time theft. It also enhances accuracy and eliminates the need for manual record-keeping.
What is a face recognition/selfie validation attendance system? Why is it being popular?
A face recognition/selfie validation attendance system is a system that uses facial recognition software to identify individuals and log them in or out of the premises. The reason businesses are using these systems is that they are a more secure way to track employees' attendance than traditional methods such as time cards or ID badges.
Which is the best attendance management system for small, medium, and large businesses?
Workstatus the staff attendance management system is suitable for small, medium, and large businesses. Apart from sharing tutorials on how to keep track of employee attendance . It offers customizable features, flexible pricing, and easy integration with existing HR and payroll systems.
How can Workstatus automate attendance tracking for my organization?
Workstatus the best attendance management software automates attendance tracking through its user-friendly interface, facial recognition technology, and GPS tracking. It also sends notifications to managers and employees and generates accurate reports.
Can Workstatus track attendance for remote workers? If yes, how?
Yes, Workstatus the staff attendance software can track attendance for remote workers through its mobile app and web-based platform. It uses GPS tracking and timestamps to record the start and end of work shifts, and it sends notifications to managers and employees.
How can Workstatus help in tracking and managing employee absences?
Workstatus helps in tracking and managing employee absences through its leave management feature. It allows employees to apply for leave requests, and managers can approve or reject them. It also generates reports on employee attendance and absenteeism.
How can Workstatus attendance management system integrate with my organization's existing HR and payroll software?
Workstatus attendance management system can easily integrate with your organization's existing HR and payroll software through its API.
Does Workstatus provide real-time attendance tracking and reporting for managers and supervisors?
Yes, Workstatus provides real-time staff attendance software for managers and supervisors. It offers live attendance tracking through its mobile app and web-based platform, and it generates accurate reports on employee attendance and absenteeism.
Don't Wait
Start Your Workstatus Journey Today!
Get detailed and clean activity reports of your team