Time Tracking App
GPS-Enabled Workforce Tracking
Integrated Time & Attendance
Log in and log out seamlessly using your mobile device or computer.
Automated Payroll & Billing
Detailed time logs to automate team payments and client billing processes.
Remote Employee Monitoring
Capture GPS locations to track field-based employees and manage remote teams efficiently.
Meant For Every Business
Workstatus: One Solution for All Businesses

Enterprises
Optimize workforce management and resource allocation
AI-powered insights for strategic decision-making
Choose Stealth or Visible Mode for tracking employee activity

Start-ups
Cost-effective, comprehensive workforce management
Real-time insights for rapid growth and success
Ideal for managing remote teams

Freelancers
Precise time tracking and invoicing
Efficient task prioritization and deadline management
Foster trust and credibility with clients
Empowering Leaders
How Can Workstatus Help Managers Optimize Operations
Workstatus offers robust features to help managers plan, optimize & track their operations and make data-driven decisions for higher ROI.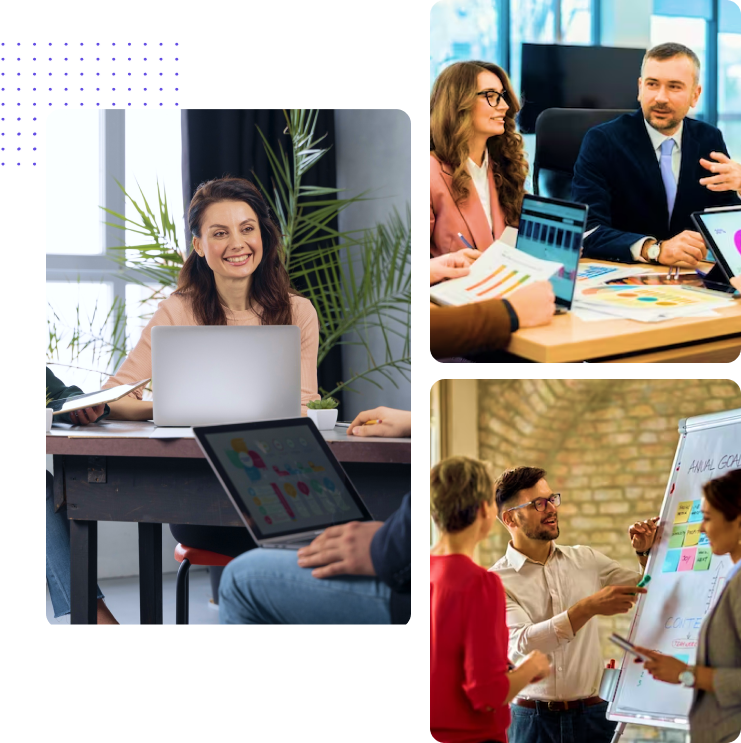 HR Managers
Real-time insights on attendance and work hours
Geofencing, GPS tracking, and selfie validation
Efficient time tracking and reporting for easy payroll
Finance Managers
Detailed time tracking and project cost analysis
Accurate budget allocation and expense monitoring
Data-driven reports for better financial planning
IT Managers
Identify potential data theft threats by capturing screenshots.
Monitor application usage to detect unauthorized software installations and potential security breaches.
Analyze metrics for smarter IT operations.
Project Managers
Centralized platform for monitoring project progress
Real-time data and analytics for risk identification
Stay on schedule and within budget with Workstatus!"
Workstatus Features
Powerful Features To Make Workforce Management Easy
Transforming Workforce Productivity and Project Excellence
FLEXIBILITY & COMPATIBILITY
Access Powerful Insights To Make Smart Decisions
Login Based Data Access
Login as employee or manager and exercise control as per your requirements. As a manager, you can allow or deny access to screenshots and reports to your employees.
APIs Access
Get access to APIs and integrate Workstatus data with any other tool/software your team is using for a single user interface.
Raw Data Access
Use raw data to generate custom reports on the minutest details on second-by-second tracking of your team's time.
Anytime-Anywhere
Workstatus for All Devices
Our lightweight app allows you and your team to track time, no matter where you are. With GPS tracking and geofences, anyone can clock in automatically when they enter a job site or get reminders based on location.
Workstatus account required to use apps
Testimonials
What Workstatus™ Users Tell Us
" Workstatus employee time tracking tool tells us the moments our people are being
productive and uses that data to help us create productive schedules, deadlines, and tasks. With a simple to use tool, we are able to make our employees more
productive while saving time we used to spend earlier. "
" We have further noticed that as a by product, our employees are also motivated to work harder and smarter by taking control of their time by having this app on their devices. "
" Glad that we moved to Workstatus and cut down on wasted time. We are now clutter- free, more managed and relaxed. Our people have reported a better work-life balance since we made the move. "
" I was exhausted after working full days. I used to spend my entire day running around like crazy trying to finish everything. But things have changed since I made a shift to Workstatus time tracker. Coming home after work with time to spend with family is great. And picture not dreading the next day at work because I am less stressed and don't feel like there's too much on my plate. "
Get Answers For
Frequently Asked Questions
How does the Workstatus Time Clock App work?
The Workstatus Time Clock App allows employees to clock in and out with a simple tap on their mobile devices.
It uses GPS and geofencing technology to ensure accurate location-based time tracking, providing you with real-time attendance data.
Can I customize the Time Clock App settings to align with my company's policies?
Certainly! Workstatus provides customizable settings within the Time Clock App.
You can define specific rules per your requirements to align with your company's attendance and time-tracking policies.
Can I track remote workers' attendance using the Time Clock App?
Absolutely! The Time Clock App is designed to track attendance for both on-site and remote workers.
Employees can clock in from anywhere, and you can monitor their attendance and working hours in real time, regardless of their location.
How secure is the Time Clock App in preventing time theft or buddy punching?
The Time Clock App incorporates robust security measures to prevent time theft and buddy punching.
It utilizes a facial recognition feature, ensuring only authorized employees can clock in and out, eliminating the risk of fraudulent entries.
Does the Time Clock App work offline?
Yes, the Time Clock App has offline functionality. Employees can still clock in and out even in areas with limited or no internet connectivity.
The app will automatically sync their attendance data once a stable internet connection is available.
Don't Wait
Start Your Workstatus Journey Today!
Get detailed and clean activity reports of your team