IMPROVED ROI
Benefits Of Project Budgeting Software
Control Project Costs
Define costs and timelines for projects to set budget limits
Get Timely Alerts
Get notified as the projects approach the limits set by you
Enhance Project ROI
With better budgeting and controlled costs get better ROI on projects
Meant For Every Business
Workstatus: One Solution for All Businesses

Enterprises
Optimize workforce management and resource allocation
AI-powered insights for strategic decision-making
Choose Stealth or Visible Mode for tracking employee activity

Start-ups
Cost-effective, comprehensive workforce management
Real-time insights for rapid growth and success
Ideal for managing remote teams

Freelancers
Precise time tracking and invoicing
Efficient task prioritization and deadline management
Foster trust and credibility with clients
Empowering Leaders
How Can Workstatus Help Managers Optimize Operations
Workstatus offers robust features to help managers plan, optimize & track their operations and make data-driven decisions for higher ROI.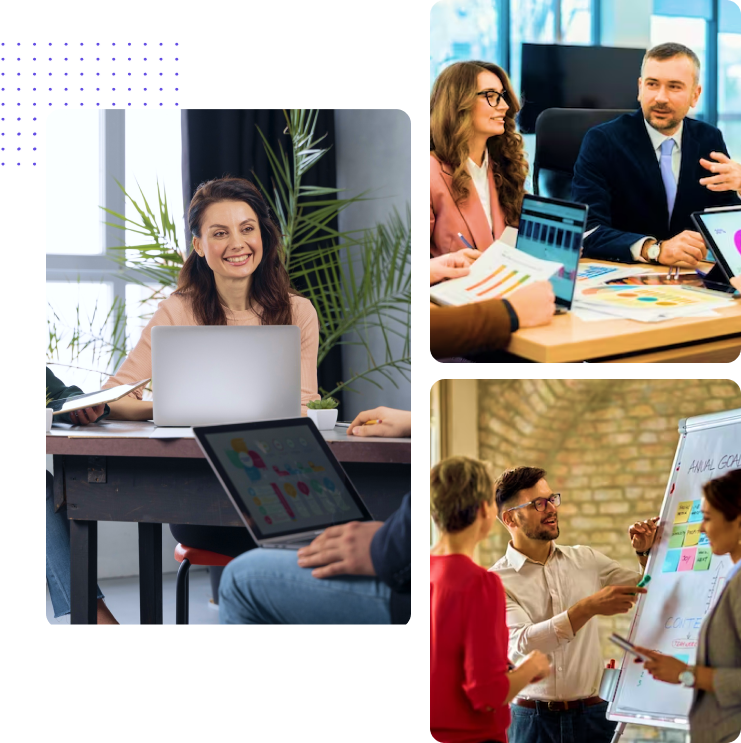 HR Managers
Real-time insights on attendance and work hours
Geofencing, GPS tracking, and selfie validation
Efficient time tracking and reporting for easy payroll
Finance Managers
Detailed time tracking and project cost analysis
Accurate budget allocation and expense monitoring
Data-driven reports for better financial planning
IT Managers
Identify potential data theft threats by capturing screenshots.
Monitor application usage to detect unauthorized software installations and potential security breaches.
Analyze metrics for smarter IT operations.
Project Managers
Centralized platform for monitoring project progress
Real-time data and analytics for risk identification
Stay on schedule and within budget with Workstatus!"
WORK SMARTER
Start Project Budgeting With Workstatus™
Instant Alerts
Set up project budgets and timelines. Get instant notifications when you are about to reach your project limits.
Progress Tracking
Workstatus provides you with complete data for every project to help you track its progress at any point in time.
Task Creation
Streamline project management by creating tasks and sub-tasks and allocating resources accurately.
USER-FRIENDLY SOLUTION
Start Your Workstatus™ Journey Right Away
Get Workstatus™
Download the Workstatus app on desktops/laptops (Windows, Mac, Linux) and/or mobile phones (Android/iOS) as per your requirements to start real-time employee monitoring.
Start Time Tracker
Just click and start the timer as you start your work and leave the rest to the fully automated timesheet tracker, which silently tracks your time and tasks. You only need to start-stop the timer as you progress your day.
Generate Time Reports
Monitor productivity reports and timesheet charts generated in real time. Team leaders can view time reports to analyze how employees invest their time and can use this information to optimize the overall workflow of the team.
Workstatus Features
Powerful Features To Make Workforce Management Easy
Transforming Workforce Productivity and Project Excellence
REMAIN FLEXIBLE
Get & Use Project Budgeting Data As You Need
Login Based Data Access
Login as an employee or manager and start populating reports in your respective dashboards based on relevant time tracking done.
APIs Access
Get access to APIs and integrate Workstatus data with any other tool/software your team is using for a single user interface.
Raw Data Access
Use raw data to generate custom reports on minutest details on second-by-second tracking of your team's time.
USE CASES
Why Should You Use Workstatus™?
Why Should You Use Workstatus™?
Workstatus enables users to estimate the cost of a project. Workstatus includes features that allow users to track actual costs against estimated costs and to create reports on cost overruns or underruns. The core functionality of Workstatus is the ability to create tasks and subtasks, assign team members, specify dependencies and set estimates for time and cost. It provides a visual representation of the project schedule and users can export data to PDF or Excel.
Improved Task Prioritisation
Workstatus is a time management and productivity app that takes a unique and innovative approach to task prioritization. Workstatus helps you stay focused and organized by allowing you to track the progress of your tasks, schedule new tasks and set priorities for your work. This system makes it easy for users to rapidly identify which tasks need to be done first and which can be postponed. The app also includes a built-in calendar and reminder system, so users can stay on top of their deadlines.
Save Up To 20% Time On Project Management
An online project management tool that helps in better project handling by providing a central location for team members to share files, ideas and tasks. This can help teams avoid the pitfalls of miscommunication and missed deadlines that can often lead to project failure. Workstatus also offers a number of features such as time tracking, invoicing and client management tools.
Anytime-Anywhere
Workstatus for All Devices
Our lightweight app allows you and your team to track time, no matter where you are. With GPS tracking and geofences, anyone can clock in automatically when they enter a job site or get reminders based on location.
Workstatus account required to use apps
Testimonials
What Workstatus™ Users Tell Us
" Workstatus employee time tracking tool tells us the moments our people are being
productive and uses that data to help us create productive schedules, deadlines, and tasks. With a simple to use tool, we are able to make our employees more
productive while saving time we used to spend earlier. "
" We have further noticed that as a by product, our employees are also motivated to work harder and smarter by taking control of their time by having this app on their devices. "
" Glad that we moved to Workstatus and cut down on wasted time. We are now clutter- free, more managed and relaxed. Our people have reported a better work-life balance since we made the move. "
" I was exhausted after working full days. I used to spend my entire day running around like crazy trying to finish everything. But things have changed since I made a shift to Workstatus time tracker. Coming home after work with time to spend with family is great. And picture not dreading the next day at work because I am less stressed and don't feel like there's too much on my plate. "
GET ANSWERS FOR
Frequently Asked Questions
What are the benefits of using project budget management software?
There are many reasons to use project budget management software. Some of the most common reasons include:
To help organize and track tasks and deadlines
To help communicate with team members about project progress
To create reports on project progress and status
To help manage resources and budgeting
What key elements should be considered when selecting project management software?
You should consider the following key features when selecting a project budget management software-
Ease of use – The

project budgeting software

should be easy to use so that you don't have to spend time learning how to use it.
Features – Make sure the software has all the features you need.
Price – Check to see if the price is within your budget.
Customer support – Make sure the software provider has good customer support.
What is the most effective tool for managing project budgets?
Workstatus is the best software for managing your project budget. Workstatus is a cloud-based software that allows you to manage your projects and track your expenses with ease. You can create budgets and track your spending in real time. You can also generate detailed reports to help you stay on top of your finances.
What are the core project management practices incorporated in Workstatus™?
The best Project budget Management practices that lie at the core of
Workstatus are-
Breaking down a project into smaller tasks that can be completed individually
Assigning specific deadlines to each task
Defining roles and responsibilities for all team members
Setting up regular meetings to track progress
Can Workstatus™ help prevent project budget overruns?
Yes, Workstatus will stop your projects from going over budget. It will help you stay on top of your budget and ensure that all projects are completed within the allotted budget. You can see exactly where your money is going and make adjustments as needed.
How can project management software improve collaboration among team members?
Workstatus™ facilitates real-time collaboration and communication among team members through features such as task assignment, progress tracking, and discussion boards.
How does Workstatus™ track project progress and deadlines?
Workstatus™ offers a range of tools such as Gantt charts, calendars, and project timelines that enable users to monitor project progress and deadlines in real-time.
Can Workstatus™ integrate with other software tools used in project management?
Yes, Workstatus™ offers integration with various software tools including Slack, Trello, Jira, and Asana, allowing for a seamless project budget management experience.
How can Workstatus™ help with resource allocation and management?
Workstatus™ provides a comprehensive overview of resource allocation, helping project managers to assign tasks and allocate resources efficiently and effectively.
Does Workstatus™ offer reporting and analytics features?
Yes, Workstatus™ offers a range of reporting and analytics tools, including time tracking, expense tracking, and project budget analysis, enabling project managers to make informed decisions based on accurate data.
Don't Wait
Start Your Workstatus Journey Today!
Get detailed and clean activity reports of your team