Meet John, a busy project manager at a software development company. With numerous projects to manage and deadlines to meet, John finds tracking time spent on every project difficult.
That's when he came across Workstatus!
The software helped him to:
Track time accurately
Optimize productivity
Generate online timesheets
Manage attendance of teams
Watch the video to know the must-have features of time tracking Software
Some Time Tracking Statistics For You!
If you are also spending a lot of time on manual time tracking, this blog can help. We have listed seven must-have features in a time-tracking software so you can make the right pick.
Let's dive in-
Online Timesheets
Companies that use manual timesheets to track their employees' hours can face many problems.
Manual time tracking can lead to errors in payroll, causing underpayment or overpayment of employees. It will ultimately result in hurting employee morale leading to high employee turnover.
In addition, manual timesheets are:
Time-consuming to fill out
Difficult to track
Hard to get an accurate picture of productivity
Online Timesheets like Workstatus can help organizations solve these problems by automating the process of timesheet calculation.
Here is what you get with online timesheets:
Complete transparency
Access timesheets from anywhere
Elimination of human error ensures accuracy
No manual entry will create a more efficient workflow
By automating the time-tracking process, businesses can save time and money while improving employee morale and productivity.
Time Tracker
Companies not using any time tracker face certain challenges that can impact their productivity and profitability.
Without a reliable time tracker, it would be difficult to:
Manage overtime
Avoid time thefts
Get an accurate picture of time spent on projects
Automated time trackers like Workstatus can help organizations get rid of these problems in the following way:
i. Time Theft
Workstatus can prevent time theft by allowing employees to clock in and out and automatically tracking their time spent on every project.
Also, screenshots and activity tracking features can help managers ensure that teams are dedicated and not involved in time theft.
ii. Overtime Management
Workstatus can help companies manage over time by setting up alerts when employees approach their maximum work hours.
It can help managers prevent overtime costs and ensure compliance with labor laws.
iii. Inaccurate Time Tracking
Workstatus can give companies an accurate picture of time spent on projects by allowing employees to track their time on specific tasks or projects.
Managers can then use this data to track project progress and accurately bill clients for the time spent on their projects.
Reports & Analytics
Reports & Analytics is an essential feature of any time-tracking software.
Without accurate reports, it would be difficult for companies to monitor progress, track the performance of employees, manage resources, etc. Then, making informed decisions regarding the work process will become hard.
But, with an automated reporting system like Workstatus, you can generate multiple reports on the following key parameters:
Project progress
Employee activity
Tasks completed
Productive and Non-productive hours
Furthermore, with Workstatus, you can quickly download and export the following reports:
Timesheet Approval
Weekly Reports
Time & Activity
Attendance
Also, export reports in multiple formats like CSV, PDF, Excel, etc.
Productivity Calculation
Productivity measurement is another key factor of any time tracking software.
When you cannot accurately calculate your employees' productivity,  you may struggle to make informed decisions about allocating resources and improving efficiency.
It can result in wasted time and resources, missed opportunities, and decreased profits.
A productivity calculator like Workstatus lets managers monitor the productivity of their teams and make better decisions on projects & resources.
Here is what you get with Workstatus:
Calculate productive time vs unproductive time
Idle time tracker
In-built productivity tracker
Performance management
With real-time insights into employee productivity, you can make data-driven decisions about allocating resources and improving overall efficiency.
Selfie Validation
Selfie validation is becoming increasingly popular in time-tracking software.
It requires employees to take a selfie while clocking in and out of their systems to ensure that they are actually present in the office during any particular day.
Not all-time tracking tools are coming with selfie verification technology.
But, time tracking software like Workstatus has a selfie validation feature to ensure work accountability. Get real-time proof that employees are working when they are supposed to be and from the location, they claim to be in.
Also, you don't have to worry about the issues like:
Buddy punching
Payroll errors
Time mapping
Remote team management
Finally, selfie validation is a powerful tool that can help organizations to improve productivity, prevent time theft, and ensure remote work accountability.
Employee Monitoring
Employee monitoring is integral to any time-tracking tool to keep employees engaged and productive.
Without employee monitoring, finding where employees are struggling or wasting time on irrelevant apps and websites would be difficult, resulting in reduced productivity and profits.
Time tracking tools like Workstatus have a comprehensive employee monitoring system that collects keyboard and mouse activity to ensure employee engagement and productivity.
You can boost employee engagement with the following:
Active screenshots
App & URL tracking
Idle time tracker
Actual time vs. idle time measurement
By having real-time data on employee activity, you can make more informed decisions to improve your workflow.
Mobile App
The mobile app feature of time tracking software allows employees to track their time and manage their tasks from their smartphones or tablets.
This feature offers flexibility and convenience, as employees can easily log their time and access important project information while on the go.
Tools like Workstatus come with mobile apps to make it easier for managers to monitor employee productivity and track project progress in real-time, no matter where they are located.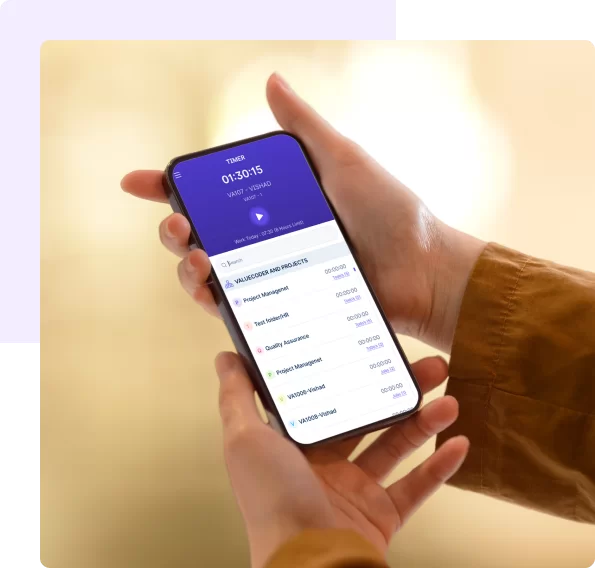 Download Workstatus for iOS and Android and experience powerful time tracking from anywhere-
Closing Thoughts
Time tracking software can quickly help you monitor how much time your employees spend on specific tasks or projects.
When selecting a time-tracking software, it is essential to prioritize features such as online timesheets, analytics and reporting, employee monitoring, selfie validation, and productivity management.
Furthermore, the chosen software should be available across various platforms, including desktops, tablets, and mobile phones.
Luckily, Workstatus offers all these essential capabilities, making it a top choice for companies looking to optimize employee time tracking and productivity.
So, why not request a free demo of Workstatus and automate your time tracking for a strong bottom line?
FAQs
Which is the best time-tracking app?
Many time-tracking apps are available, but one of the best is Workstatus. This app offers a range of features, including real-time monitoring, project management tools, and customizable reports.
With Workstatus, businesses can easily track employee productivity, manage projects, and improve efficiency.
What are the benefits of time tracking for any organization?
Time tracking can bring several benefits to an organization, including:
Increased productivity
Improved project management
Better resource allocation
More accurate billing
Compliance with labor laws
Can time-tracking software be used by freelancers and individuals?
Yes, freelancers and individuals can use time tracking software like Workstatus.
Many freelancers and independent contractors use time tracking tools to accurately track the time they spend on various projects and tasks, which can help them bill clients more accurately and improve their overall productivity.
It can also be used by individuals who want to improve their personal productivity and better manage their time.