STAY INFORMED
Benefits Of GPS Tracking Software
Current Location Tracking
Know your field employees' exact location to ensure they work at the assigned location.
Track & Optimize Routes
Track each route & identify obstacles to optimize the routes accordingly.
Trace The Possible Delays
Accurately predict the possible delays in reaching the destination site and manage the time accordingly.
ONE STOP SOLUTION
GPS Tracking For Field Employees
Get a comprehensive view of your remote team's daily activities, total hours worked, active & idle time, and much more from a single dashboard.
Geofence Work-Sites
Create geofences around the work sites, and allow your team members to clock in and out automatically based on their GPS-tracked location. You can create multiple virtual fences on one map and customize them depending on site jobs.
Route Tracking
Monitor your employees' routes and track time spent completing each job. This information can help you better optimize routes for on-time delivery.
Real-Time Alerts
Address red flags head-on. Get real-time notifications and alerts about your employees coming late to the reporting sites and abandoning job sites before completing jobs.
ENHANCE EFFICIENCY
Centralized Dashboard: Access Everything
Workstatus records detailed information about employees' locations and generates reports on how they spend their working hours, making it a valuable tool for optimizing team performance.
Get Timesheets
Track idle time, breaks, and total active working hours to analyze each employee's productivity and assign tasks per their productivity capabilities and unique skill set.
Remove Roadblocks
Help employees optimize routes to increase efficiency in accomplishing jobs and save fuel, delivery time, and other time-dependent resources.
Automated Schedules
Save time by automating the otherwise time taking and tedious employee tracking and attendance management.
Meant For Every Business
Workstatus: One Solution for All Businesses

Enterprises
Optimize workforce management and resource allocation
AI-powered insights for strategic decision-making
Choose Stealth or Visible Mode for tracking employee activity

Start-ups
Cost-effective, comprehensive workforce management
Real-time insights for rapid growth and success
Ideal for managing remote teams

Freelancers
Precise time tracking and invoicing
Efficient task prioritization and deadline management
Foster trust and credibility with clients
GET THE TECHNOLOGY EDGE
Monitor Activity Patterns Of Remote Employees
You can generate custom action-based reports with our GPS time tracking & attendance tracking software. Workstatus ensures you stay on top of essential workforce data.
Clock In App With GPS
Employees need to clock in with GPS turned on, and you can start reviewing and guiding them to ensure the best results.
Selfie Validation
Validate remote employees by selfie capture when they clock in and out, along with their logged location.
Automated Time Tracking
Tracking starts as employees switch on their systems. Set & automatically receive daily, weekly, or monthly work status reports via email and instant notifications.
Dynamic Insights
Get a visual representation and in-depth analytics about employees' productivity supported by screenshots serving as proof of work. The reports are updated in real-time so you can easily identify trends & productivity patterns and bring necessary changes.
Empowering Leaders
How Can Workstatus Help Managers Optimize Operations
Workstatus offers robust features to help managers plan, optimize & track their operations and make data-driven decisions for higher ROI.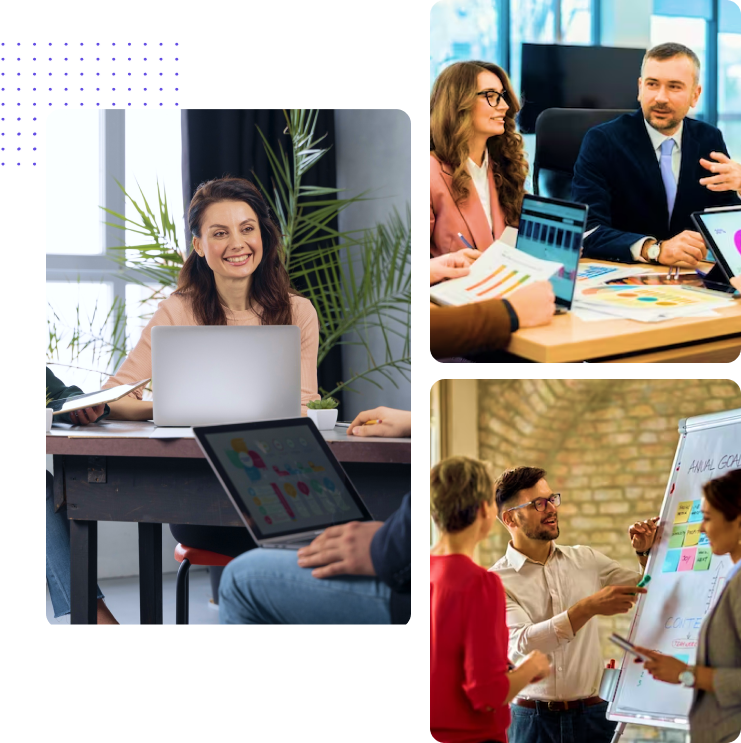 HR Managers
Real-time insights on attendance and work hours
Geofencing, GPS tracking, and selfie validation
Efficient time tracking and reporting for easy payroll
Finance Managers
Detailed time tracking and project cost analysis
Accurate budget allocation and expense monitoring
Data-driven reports for better financial planning
IT Managers
Identify potential data theft threats by capturing screenshots.
Monitor application usage to detect unauthorized software installations and potential security breaches.
Analyze metrics for smarter IT operations.
Project Managers
Centralized platform for monitoring project progress
Real-time data and analytics for risk identification
Stay on schedule and within budget with Workstatus!"
STAY ALERT AND WISE
Alerts & Reminders To Keep You Updated
Attendance Management
Easily track whether the employee is reaching & spending enough time on the required location, along with online timesheets.
Route Breaks
Know when your field employees take a break or deviate from their route plan. You can track and analyze the longer-than-needed route breaks and avoidable deviations to improve overall productivity.
Idle Timeouts
Get alerts generated for yourself as well as team members on idle time. This will create accountability and help you solve time-related concerns like long undeclared breaks. Idle time notes help employees explain reasons for being idle.
Custom Reminders
Generate customized reminders to alert employees when they're off-track or entering hazardous zones so that employees can take timely & appropriate actions.
EASY FOR NON-TECHNICAL EMPLOYEES TOO
Use Workstatus GPS Time Tracking Effortlessly
Download & Install Workstatus
Simply download and install Workstatus time tracker app with GPS on any computer or mobile and sign up for an account. It's as easy as that. Once you have installed Workstatus, your system is ready to track the GPS location of your employees right away.
Start Monitoring Time & Location
Take a look at how employees get to work and when they clock in and out. Explore average commute times, locate your fleet of drivers, see where mobile workers are spending their day, and more with Workstatus GPS tracking.
Auto-Generate Reports
With GPS time tracking app reports are automatically generated for each employee based on their working hours, absences, and mobile device locations. You will have a real-time report of your employees with any anomalies flagged in red so you can act quickly to improve efficiency.
Workstatus Features
Powerful Features To Make Workforce Management Easy
Transforming Workforce Productivity and Project Excellence
DATA ON YOUR TIPS
Get & Use GPS Tracker As You Need
Login Based Data Access
Login as an employee or Manager and start populating reports in your respective dashboards based on relevant GPS tracking done.
APIs Access
Get access to APIs and integrate Workstatus data with any other tool/software your team uses for a single user interface.
Raw Data Access
Use raw data to generate custom reports on second-by-second GPS tracking of your team.
USE CASES
Why Can Workstatus Help Your Business
Boost Profitability
Business owners can use Workstatus GPS time tracking software to monitor their employees' progress while they are on the job or run errands. Features like geo-fencing and speed alerts let business owners track location, safe driving, and delivery performance. Employees can also use these features to create more efficient routes for themselves, giving them more time to focus on result-generating activities.
Improve Remote/Field Employees' Productivity
You will be able to get real time updates on your employees location and job status. . Based on insights you can guide your employees to be more efficient and productive by optimizing their routes, hours spent and deliveries. Track off-route activities and take action to eliminate distractions. You can also adjust work hours if needed depending on their productivity and task deliverance. Our customers report that GPS enabling has increased productivity by minimum 10%.
Get Technology Edge
With Workstatus, you can automate the entire attendance management for all your distant employees, remote as well as in-field. You get plethora of options to track and monitor their attendance, active time, breaks, idle time, non-productive time and hyper-active times. Create alerts, notifications, and employees shift schedules based on reports generated from no-noise tracking & monitoring of your employees.
Anytime-Anywhere
Workstatus for All Devices
Our lightweight app allows you and your team to track time, no matter where you are. With GPS tracking and geofences, anyone can clock in automatically when they enter a job site or get reminders based on location.
Workstatus account required to use apps
USER GUIDE
Have Doubts And Concerns? Find Answers To All Of Them
1. How to implement GPS Tracking Software in your company?
You can easily implement GPS Tracking software in your company. You just need to first identify what type of solutions you need from it.
Is it important for you to track its employees during work hours or also while they are at home? Is it important for employees to be able to track their own location within a certain time frame?
Well, Workstatus is one of those apps that offer all these features and more. In addition, there's an app specifically made for employers, so they are able to see how long employees have been away on lunch break, etc. Even when they are not using the app actively themselves, therefore, whenever you feel like checking up on someone with a specific job role, such as being sure that he/she isn't slacking off when working on something else, you can do so with ease by logging into your account.
Bringing it all together, Workstatus makes it highly simple to implement it.
Testimonials
What Workstatus™ Users Tell Us
" Workstatus employee time tracking tool tells us the moments our people are being
productive and uses that data to help us create productive schedules, deadlines, and tasks. With a simple to use tool, we are able to make our employees more
productive while saving time we used to spend earlier. "
" We have further noticed that as a by product, our employees are also motivated to work harder and smarter by taking control of their time by having this app on their devices. "
" Glad that we moved to Workstatus and cut down on wasted time. We are now clutter- free, more managed and relaxed. Our people have reported a better work-life balance since we made the move. "
" I was exhausted after working full days. I used to spend my entire day running around like crazy trying to finish everything. But things have changed since I made a shift to Workstatus time tracker. Coming home after work with time to spend with family is great. And picture not dreading the next day at work because I am less stressed and don't feel like there's too much on my plate. "
GET ANSWERS FOR
Frequently Asked Questions
What is a GPS tracker and how does it work?
GPS tracker or real-time tracking software refers to the kind of program that can monitor the location of your employees and share this information with your managers in real time. GPS tracking software often comes with different features, but some of the most basic ones include live tracking, route history, and speed monitoring.
This software provides you with detailed information about where your employees are, when they go to lunch, how much time they spend at their jobs, and more. They not only track you via GPS but there are also other ways such as monitoring the keystrokes on your computers and tracking the movement of your mouse.
By enabling this type of software in your employee's systems, you can ensure that they are being productive and working hard. In addition, you'll also be able to tell whether employees are making the optimum progress or not.
To put it simply, GPS tracking software means a program used to track the location of something or someone. It is used to track the location of your employee or contractor who works for you. Most companies have started to adopt these programs due to their effectiveness.
So, If you want more information about how GPS tracking software can benefit your company feel free to contact us. At Workstatus, we're ready and willing to assist you with any questions that may arise during your research process into our products.
Which is the best GPS tracking software for my business?
Without a doubt, Workstatus is the best GPS tracking software for any business. It has all features that any business needs to track their employees. The excellent interface and its user-friendly operation make it easy even for a non-tech-savvy person to learn how it works in minutes.
With Workstatus, You can view a real-time map of movements, change routes, and review past trip reports of each employee. You also have the option to upload multiple employees, so you are able to manage more than one team using the same software.
So there's no point in thinking too much and choosing any other GPS tracker when there's such a great solution at hand. Just go ahead with Workstatus and enjoy hassle-free assistance!
How to track employees' GPS location while respecting their privacy?
To track employees' GPS locations while respecting their privacy, it's crucial to begin with their informed consent and maintain transparency throughout. Clearly define policies for tracking, ensuring it's only active during work hours or job-related tasks. Educate your workforce on the benefits of such tracking, addressing any apprehensions. Finally, always ensure that your tracking practices comply with relevant privacy laws and regulations, keeping the balance between productivity and privacy intact.
Can Workstatus GPS tracker be used on mobile devices?
Workstatus can operate on every operating system, both Android and iOS devices, so you don't have to worry about the ease of use on your smartphone or tablet.
While other GPS tracker applications may not offer compatibility with certain devices, Workstatus has been developed for optimal use with all types of phones and tablets, as well as other types of hardware like computers. Because of its wide range of compatibility, you can keep track of all your hardware from any location even while you're traveling abroad.
You won't be required to do anything new in order to enjoy a full set of tracking features. All that is needed is to install Workstatus and register an account, which takes only a few minutes to complete. Once your account is created, simply enter information pertaining to each of your employees, and they will automatically sync with their profile page in real time.
What kind of reports can I get using the Workstatus tracking system?
Workstatus is a powerful tool that allows you to track every detail of your employees as well as receive custom reports about their performance. For example, with Workstatus, you can check how much progress each employee has made in a day and how productive they were while working.
Reports insights such as Time & attendance, when your employees arrived and left work, how many breaks they took, how many tasks they've completed, and much more give you a complete overview of all devices connected to Workstatus.
You just need to enter your email address in order to download Workstatus for free. Upon downloading and installing the app on their PC or mobile device, they can immediately start using it. The most interesting thing about Workstatus is that, unlike other similar systems, there are no hidden fees or requirements for the installation of Workstatus.
So what are you waiting for? Just register for a free account by entering your email address into the Get Access section above!
Can Workstatus GPS software be self-installed?
Definitely, you can install Workstatus for yourself.
With Workstatus, you get all the necessary tools to use in your own way and meet your needs. You don't need to hire a professional programmer. You do the installation all by yourself or ask a colleague to help you out!
After getting familiar with the installation process, you will be able to use the software smoothly by yourself. And if any questions come up, our technical support is always there for you. So it's definitely possible to install our GPS tracking software and run them independently.
How accurate is GPS tracking technology?
GPS tracking technology is generally very accurate, and Workstatus GPS tracking software is designed to provide real-time and accurate location data. Workstatus uses advanced algorithms and machine learning to improve the accuracy of GPS tracking and also offers features such as geofencing to help ensure that employees are only tracked when they are on the clock.
Is GPS tracking legal?
GPS tracking is legal in many jurisdictions, but there may be restrictions on when and how it can be used. Workstatus is designed to comply with relevant laws and regulations and offers features such as automatic clock-out when employees leave the workplace to help ensure that privacy rights are respected.
How secure is GPS tracking data?
GPS tracking data can be vulnerable to hacking and unauthorized access, so it is important to use secure software and devices and to follow best practices for data security. Workstatus takes data security seriously and uses industry-standard encryption and authentication protocols to protect GPS tracking data. Workstatus also offers features such as role-based access control and audit logs to help ensure that only authorized individuals have access to sensitive data.
Don't Wait
Start Your Workstatus Journey Today!
Get detailed and clean activity reports of your team