Time tracking is essential for companies to ensure accurate payroll and efficient time management.
However, most organizations still use old methods of time tracking, which are:
Inaccurate
Costly
Outdated
Time-consuming
So, it's time to switch to advanced time tracking software tools to automate the time tracking for businesses to
Track employee hours
Monitor productivity
Improve overall efficiency
This blog post discusses the benefits of Workstatus and how it can help companies like yours streamline their operations.
Features of Modern Time Tracking Software
Here are the must-have features of modern time tracking software:
Automated time tracking
Modern time tracking software automates the process of tracking employee hours to reduce manual data entry and minimize the risk of errors.
Attendance tracking
With attendance tracking, you can track employee absences, tardiness, and other attendance-related metrics.
Mobile compatibility
Many modern time tracking software solutions come with mobile apps that allow employees to clock in and out of their shifts using their smartphones, making it easy to track hours even when on the go.
Schedule Management
Schedule Management allows businesses to create and manage employee schedules, set reminders and alerts for upcoming shifts, and ensure that employees work the right shifts at the right times.
Reporting and analytics
Modern time tracking software often comes with reporting and analytics features that allow you to generate detailed reports on employee productivity, attendance, and other key metrics.
It helps you make informed decisions about staffing and resource allocation.
Integration with other tools
Many time tracking software solutions can integrate with other business tools, such as project management and payroll systems.
It helps you to streamline workflows and minimize data entry errors.
How Workstatus Works?
Workstatus is a modern AI-powered time tracking software with numerous features to help organizations manage employee hours and improve productivity.
Some of its key features include:
Attendance tracking
Reporting and analytics
Real-time schedule updates
Manual time edit
Mobile compatibility
Major Benefits:
With Workstatus, you can easily track employee hours, manage projects, and make informed staffing and resource allocation decisions.
We will now discuss these features one by one.
Attendance Tracking
With Workstatus, managers can easily track employee attendance from anywhere.
It lets your teams click a selfie for verification before clocking in and out of their systems.
And this information will be stored in the database so that you can access this data anytime to simplify your payroll calculation.
Key Features:
No manual errors
No buddy punching or time thefts
Automatic clock-in and clock out
Manage absences, leaves, or vacations
It allows for timely interventions and helps employees adhere to their schedules.
Reporting and Analytics
Workstatus offers robust reporting and analytics features, allowing managers to  to generate custom reports that include information on:
Project progress
Productive and non-productive hours
Employee activity
Tasks completed
Easy to download and export the following reports:
Timesheet approval
Weekly reports
Time & activity
Attendance
Also, export reports in formats like CSV, PDF, Excel, etc.
You can use this data to optimize scheduling and make informed business decisions.
Real-time schedule updates
Workstatus enables managers to create shifts and make real-time changes to employee schedules if someone is unavailable, thus avoiding scheduling conflicts.
Key Features:
Automated scheduling
Real-time employee availability
Absent alerts
Shift reminders
It helps ensure that schedules remain accurate and up-to-date.
Manual Time Edit
Manual Time Edit lets you manually adjust the time employees work, making it easy to correct errors or add missing time.
Key Features:
Automated time tracking
Edit notes
The manual time edit feature is particularly useful for organizations with employees working remotely or on flexible schedules. It allows for accurate hours tracking even if they forget to clock in or out.
Mobile Compatibility
Workstatus is designed to be mobile-friendly, allowing managers and employees to access schedules and other important information from anywhere, at any time.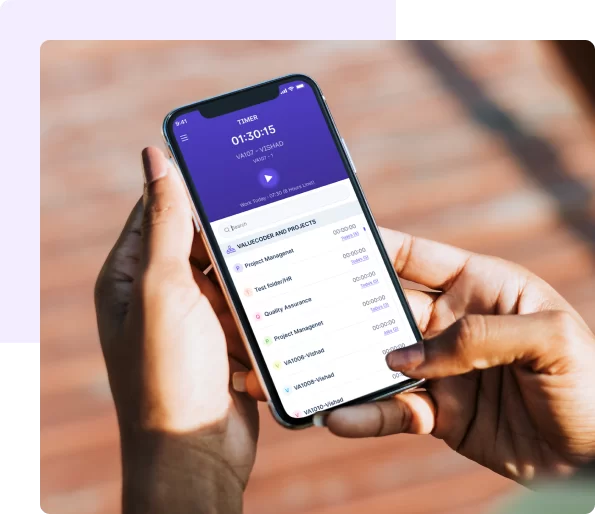 Key Features:
Track time & productivity
Stay updated while on the move
Access timesheet from anywhere
It ensures that everyone is always in the loop, even on the go.
Productivity Management
The productivity management feature lets companies track employee productivity, identify areas for improvement, and optimize their resources.
Key Features:
Built-in productivity-meter
Website and app monitoring
Idle time tracker
Productivity graphs
With real-time insights and advanced analytics, you can stay ahead of the productivity curve and easily maximize your efficiency.
Getting Started with Workstatus
The below given steps will help you get started with automated time tracking in Workstatus:
Visit the official website of Workstatus.
Create your account by providing your name, email address, and password.
Log in to your Workstatus account.
Click on the "Projects" tab to add a project.
Give your project a name and description.
To add team members, click the "Members" tab and click "Invite Members."
Enter the email addresses of the team members you want to invite
Download the Workstatus time tracker app from its website.
Click on the tracker to start tracking the time of your teams on any task or project.
Download and view timesheets of your teams.
That's it!
Workstatus will automatically track time and provide you with accurate reports.
Real-world examples of Workstatus in action!
Here are case studies showcasing how Workstatus has helped companies automate their scheduling system:
Join the thousands of businesses that have optimized their scheduling practices with Workstatus.
Closing Thoughts
In conclusion, effective time tracking is a key element of success for any organization.
With Workstatus, you can improve productivity, streamline communication, and gain valuable insights into employee performance.
By leveraging the power of modern time tracking software, organizations can stay ahead of the competition and easily achieve their goals.
Take control of your time tracking and improve your bottom line with Workstatus.
FAQs
Ques. What is Workstatus?
Ans. Workstatus is a time tracking and productivity-monitoring software that helps businesses track their employees' work hours and improve overall productivity.
Ques. Can employees track their own hours with Workstatus?
Ans. Yes, employees can use Workstatus to track their hours by using the mobile app or desktop software.
Ques. Is Workstatus secure?
Ans. Yes, Workstatus uses industry-standard security protocols to keep employee data safe and secure.
Ques. Can Workstatus integrate with other business software?
Ans. Workstatus can integrate with other business software, such as project management tools and payroll software, to streamline your business operations.